The British Are Coming..... To Rahway, NJ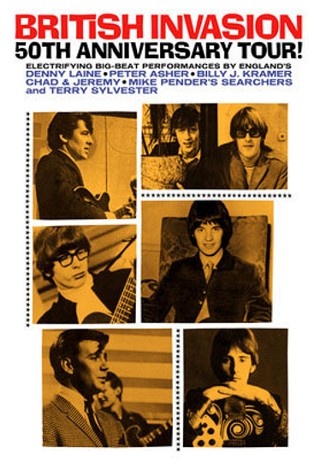 Pop culture was changed forever in 1964-65 by the arrival of the British Invasion pop artists on American shores. Some 50 years later, a quorum of iconic singers of the legendary 1960s music revolution will tour the U.S., from February 22 until March 8, 2015 including a stop at Union County Performing Arts Center (UCPAC) in Rahway on Wednesday, February 25. Slated to appear together on one stage are Peter Asher (of Peter & Gordon), Denny Laine (of the Moody Blues and Wings), Chad & Jeremy, Billy J. Kramer, Mike Pender's Searchers, and Terry Sylvester (of the Hollies). Asher will serve as master of ceremonies.

"The British Invasion 50th Anniversary Tour" commemorates the Beatles' momentous arrival on these shores. It was the start of the British Invasion, and in the wake of massive mop-top pop hysteria, all of the participants in this incredible concert experience dominated the music world and scored more than 40 worldwide Top 40 hits. Their sound and look changed popular culture forever, and now they are back to celebrate and honor some of the greatest songs of the 20th century.

The artists are ably supported by a four-piece backing band faithfully recreating the classic sound of the vintage recordings, and a full multimedia video package highlighted by rarely seen footage and incredible archival ephemera. The experience is completed by unique clips of the era's other fab combos, shown pre-show and during intermission, making this a fully themed evening of entertainment.

According to co-promoter Andrew Sandoval, "For a fan, this tour is the finest representation possible of the artists and music that touched so many of our lives from the explosive British Invasion. Each show is like a brilliant trip back in time."

Sun Feb. 22 ANNAPOLIS, MD Rams Head Onstage
Wed Feb 25 RAHWAY, NJ Union County Performing Arts Center
Thurs Feb. 26 BOSTON, MA Wilbur Theatre
Fri Feb. 27 LANCASTER, PA American Music
Sat Feb. 28 TARRYTOWN, NY The Tarrytown Music
Sun March 1 ALEXANDRIA, VA Birchmere
Wed March 4 KENT, OH The Kent Stage
Fri March 6 MILWAUKEE, WI Pabst Theater
Sat March 7 CHICAGO, IL City Winery
Sun March 8 MINNEAPOLIS, MN Pantages Theater
Mon March 9 SEATTLE, WA Benaroya Hall

Billy J. Kramer was Brian Epstein's legendary protégé and in fact the first true British Invader (since his first visit to America pre-dates that of the Beatles). This Liverpudlian's recordings were produced by George Martin and several were penned by John Lennon & Paul McCartney. Few others can claim to be as close to the epicenter of the first wave of British music to conquer America.

Mike Pender was the voice of the Searchers, one of the most influential bands from Liverpool in the early 1960s. Pender also played the trademark jangly Rickenbacker 12-string riffs on such quintessential hits as "When You Walk In The Room," which gave way to the West Coast folk-rock revolution closely identified with the Byrds. Along the way the Searchers popularized songs of such writers as Jackie DeShannon, P.F. Sloan, Jack Nitzsche and Tony Hatch.

Terry Sylvester was a member of two legendary Liverpool bands — the Escorts and the Swinging Blue Jeans — before replacing Graham Nash in the Hollies. Sylvester's time in the Hollies coincided with their greatest U.S. chart success and he remained a member of the group through the 1970s. He brings an incredibly cheeky and cheerful energy to the concert stage, as well as authentic beat group credibility.

Peter Asher is a legendary music producer (James Taylor, Linda Ronstadt) and manager, but his first path in song was as one half of the chart-topping duo Peter & Gordon. Asher brings a rare insight into the music as the host of the evening, and his performance of his many 1960s hits marks a truly rare outing for one of the key figures in popular music. None other than Paul McCartney, who shared a close association with Peter throughout the 1960s, penned several of Peter & Gordon's hits.

Denny Laine, another McCartney mainstay, broke out of Birmingham with a Top 10 hit, "Go Now," as a member of the Moody Blues. He went on to find further success as a songwriter ("Say You Don't Mind" for Colin Blunstone of the Zombies), and in the '70s became McCartney's right hand man in Wings, scoring 24 Top 40 hits, including six #1 singles. Wings became one of the biggest selling groups of all time.

Chad Stuart & Jeremy Clyde were another successful duo of the era, bringing a modern twist to classic two-part vocal harmony. They hold the distinction of being one of the few British outfits to take up residence in the United States at the height of their popularity. This allowed them to appear individually and collectively on such television programs as Batman, The Dick Van Dyke Show, The Patty Duke Show, My Three Sons, Laredo and The Dating Game, passing into pop culture fame. Their esteemed songwriting embraces traditional folk, sunshine pop and visionary psychedelia; their blend is timeless.

The British Invasion Tour is is produced by Keith Putney and Andrew Sandoval and booked by the Agency Group. Focusing on presenting all of the hits, plus the most creative archival multimedia currently in production, these shows are without equal in the package circuit. Among the songs audiences might expect to hear:

Mike Pender: "Needles and Pins" "Sugar and Spice" "Don't Throw Your Love Away" "Someday We're Gonna Love Again" "When You Walk in the Room" "Love Potion Number Nine" "What Have They Done to the Rain" "Bumble Bee"

Billy J. Kramer: "Little Children" "Bad to Me" "I'll Keep You Satisfied" "From a Window" "Do You Want To Know a Secret"

Peter Asher (of Peter & Gordon): "A World Without Love" "Nobody I Know" "I Don't Want To See You Again" "I Go To Pieces" "True Love Ways" "Woman" "Lady Godiva" "Knight in Rusty Armour"

Chad & Jeremy: "Yesterday's Gone" "A Summer Song" "Willow Weep For Me" "If I Loved You" "Before And After" "I Don't Wanna Lose You Baby" "Distant Shores"

Terry Sylvester of the Hollies & Swinging Blue Jeans: "Sorry Suzanne" "He Ain't Heavy, He's My Brother" "You're No Good" "Hippy Hippy Shake"

Denny Laine of The Moody Blues: "Go Now" "Say You Don't Mind"