MPS in Porvoo, Finland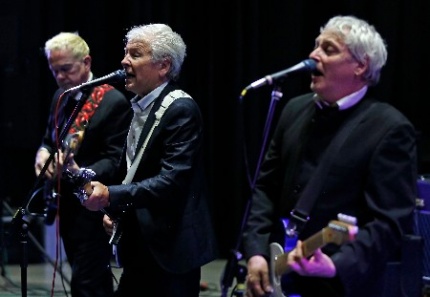 The Spell Of Sugar And Spice Still Lingers On
The Searchers, one of the famous Liverpool bands, made their first appearance in Finland in 1964. After more than 50 years they still attract worldwide audiences, which is a clear proof of the magic spell of their sweet songs. In July 2016, their venue was in Porvoo Art Factory located in a picturesque country town some 50 km from the Finnish capital Helsinki. "60's Forever", the local music lovers' association, regularly arranges vents, and their main act for the summer happening often comes from the UK, just as now.

For Mike Pender's Searchers, this was the first time in Porvoo and the first time in Finland in about twenty years, according to Barrie Cowell, the bass player, but he could not tell where and when exactly. Mike Pender, the band's leader and lead guitarist, was also sorry for his bad memory saying that he does not even rememberwhen he has been in any specific country for the first time.

No 1 USA: Love Potion No. 9
The Porvoo visit was the first time ever in Finland for Keith Roberts, the guitar player: "After being here for ten hours I want to say that I love your country." And this he said even without being asked! He was obviously pleased with the reception that he had got and the services of the stylish Haikko Manor, where the band was accommodated. He also loved the views that in his mind were "almost like in the Appalachian Mountains". So, you people of Porvoo should appreciate your magic spell! Keith joined the band in 2005 while touring in Australia: "I was then with The Herman's Hermits and I knew Mike Pender's son Mike Pender junior, the drummer."

All four band members do vocals, but today the drummer would not sing. Mike Pender Jnr. was namely left at the Manchester Airport due to overbooking, and the band had to depart for Finland as a trio. Fortunately, we have many active 60s music bands in Finland and a few of them live in Porvoo, so it was possible to find a replacement for the drummer at a short notice. There were also many more than willing top-class drummers all over Finland, but they were either on their way to a gig or just on vacation.

My photographer and I were lucky enough to follow the sound check before the evening's show, and it seemed that the local drummer, Osku Vainio of The Porvoo-based Hollymakers was doing quite well. He already knew most of the songs the band would play that night, and the missing pieces he taught himself using a tablet. Mike Pender and his team were ready to advise and support Osku during the show. The drummer even got a solo act of his own!

No 1 UK: Don't Throw Your Love Away
A full review of the night's whole happening will appear elsewhere, made by a professional musician, so I won't go into the details of the band's performance. The set included, naturally, a selection of The Searchers hits, and songs by artists such as Roy Orbison and Bonnie Tyler. "Don't Throw Your Love Away" would be the sing-along song, because Mike Pender rehearsed his lines during the sound check.

"Our set of songs is not always the same, it varies depending on the occasion," Mike explains. Today, we did not perform 'Take It Or Leave It', for example. Sometimes we ask for requests from the audience. Our songs from other artists are always from persons that we know well or have been touring with. But we always use 'Summer of 69' by Bryan Adams for closing, it's so good for that purpose."(Having experienced the closing, I can assure you that this song can be used for many different purposes!)

No 3 UK: When You Walk In The Room
When I walked into the band's dressing room late in the evening after the show, Mike surprised me by saying spontaneously: "I respect you people who are interested in the old times and come to listen to bands like us,". He pulled a chair for me and urged me to start: "Shoot, shoot!" I had thought of starting this interview in another way, but changed my mind because of what Mike had said on the stage: "I don't remember the last time I was in Finland." I knew then that I could help him remember his first visit to Finland.By chance, I had laid my hands on the January 1965 issue of the popular Finnish music magazine "Suosikki" containing an extensive report of The Searchers by Mape Veijalainen (a well-known reporter and presenter today). I was now able to show Mike evidence of their first gig in Finland in a town called Lahti in late 1964. Later, I heard that there was at least one person in the Porvoo audience who had been in the first row during the Lahti gig, so for him, the attraction had lasted through all the years.

I also wanted to ask Mike if some things that were said about him in the magazine were still true today. "Your favourite hobby is smoking a pipe. False or true?" "Well, I had a pipe and I liked to smoke it, but not very often. Today I don't smoke anymore." "It says here that you favourite drink is milkshake. What about it?" "lt may well have been true then, but today I prefer a bottle of good wine". "And finally: your favourite girl is your wife." "It was true then and it is true now." And his wife is still the same. So not everything in papers is rubbish!

No 1 UK: Sweets For My Sweet
The Searchers were formed in Liverpool in 1959 and were often considered the No 2 band right after The Beatles there. These two bands had many things in common: They were both representatives of the so-called Mersey sound and the British Invasion, they started as skiffle bands and played in clubs in Liverpool and Hamburg. What made The Searchers to stand out from The Beatles? According to Mike Pender, their differences were in the style: "The Beatles was more 'in your face' (provocative) and we were… boring. We were both doing cover versions of songs, mostly American, and making them our own, but their music was more aggressive. Ours was slower and more melodic. We also had a distinctive sound of our own."

Tonight's audience, myself included, is old enough to remember those four young men, playing with a skill and singing in perfect harmony. Mike's one-of-the kind voice and his jangling 12-string Rickenbacker are not easy to forget. Their sound has sometimes been described as "sugary", but it did not seem to bother the partying people in Porvoo. The competition between the bands was obviously not very hard, because there is a story about how John Lennon helped The Searchers early in their career. Somebody had asked him what his favourite record was and he had said "Sweets For My Sweet' by the Searchers". When asked who they were, he had answered: "It's a Liverpool band, you know". After two weeks, the record hit No 1 in the charts.

No 1 UK: Needles And Pins
Mike Pender left The Searchers in 1985. Why split? Mike explains: "For me, The Searchers had started to sound like a tribute band and I wanted to form a new band. Barrie (Cowell, bass) has been with me from the beginning." The other present band members are Keith Roberts (guitar) and Mike Pender Jnr. drums). According to the official website of Mike Pender's Searchers "…his aim was, and stillis to this day, to faithfully recreate the sound and feel of those Hit Recordings and at the same time introduce other material that compliments Mike's unique voice and guitar style." All that was done in Porvoo.

In 2014, Mike published an autobiography with the title "The Origins of The Searchers and the Search of Myself". I cannot but ask if he has found himself. "Yes, l have. I found myself in 1985, when I established a band of my own."After touring the world for more than 50 years – how long is Mike Pender going to continue? "As long as I enjoy it and I still do," he says without hesitation. In November, Mike is due for a long solo tour in Australia. Before that, there was a chance to see him, for example, in his native Liverpool, when The International Beatles Week celebrated its 30th anniversary in August/September. Together with other world famous 60s stars from Liverpool, he performed at the recently renovated Royal Court Theatre. He was also interviewed at the Britannia Adelphi Hotel, just like other first-class performers of the week, so Liverpool still values its own son.

Before leaving the dressing room at the Porvoo Art Factory, there are some practicalities to takecare of, such as autographs for myself and for a friend. Mike Pender is clearly a true gentleman and a sweet person. "It's been a pleasure," he says and presses a soft kiss on my cheek so quickly that my photographer has not time to react. But I had my fill of sugary things…

Searchers Of Two Kinds
The Searchers were formed in 1959, their name originating from the 1956 western "The Searchers" starred by John Wayne. From 1985, when Mike Pender left, he wishes it to be known that it was never his wish to use the name, or to be known as The Searchers after he had created his own band Mike Pender's Searchers. From 1985 both groups use the name Searchers but are in fact both tributes to the world famous Searchers: Tony Jackson, Chris Curtis, Mike Pender and John McNally.
Reproduced by kind permission of Arja Schadewitz
Translated from Finnish to English by Arja Schadewitz
Article written by Arja Schadewitz – contributing Editor to Rautsikka magazine – following her interview at the Porvoo concert.
Photographs by kind permission of Aki Schadewitz