'Pulling strings to meet Guitar Heroes'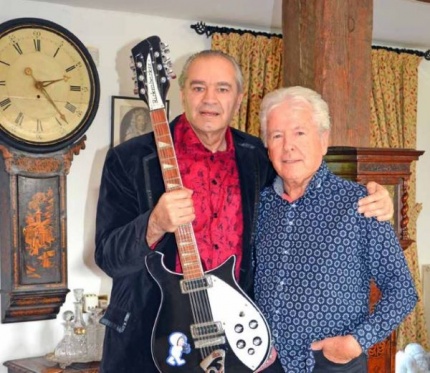 "British Guitarists 1952-1972 Electric Pioneers" by Peter Tuffrey, review courtesy of The Yorkshire Post.
Music has always been a major passion for author Peter Tuffrey. But meeting his childhood rockstar heroes – even at the age of 70 – has been a thrill. For his latest book, Peter has interviewed the likes of The Searchers' co-founder Mike Pender, Amen Corner's Andy Fairweather Low, Bakerloo's Clem Clempson, Whitesnake guitarist Micky Moody and The Hollies six-string player Tony Hicks.
The author and former Doncaster Rovers media consultant has released British Guitarists 1952-1972: Electric Pioneers, recently put out by Bradford-based Great Northern Books. For a man who used to work in the music instrument business and grew up enthralled by bands of the 1960s and 70s, it was often a labour of love. He says: "The one thing about this is – and while I was working as well – I got to meet a lot of my heroes," he says. "I left junior school in 1964, around the time of the beat boom of The Beatles and the Stones and The Kinks and The Searchers. I always really liked The Searchers and so to meet somebody that was my hero when I was 10 or 11 years old, like Mike Pender, was just brilliant.
Music and society changed dramatically in the 20 years the book covers, and few cultural figures were revered to quite like those virtuoso guitar players. As Peter writes in the introduction: "Arguably, from the mid-20th century, no other musical instrument developed faster or had a greater impact than the electric guitar. In Britain, many youngsters became enthralled by the look and the sound, leading them to take up the guitar to entertain their peers. Several dozen were able to master the instrument to gain national and international recognition, enjoying careers spanning decades which has resulted in a number being awarded Queen's honours.
The book profiles 39 guitarists, providing biographical details and delving into their work as artists but also explores the instruments and equipment they used, researched using his own interviews and sources such as old music press interviews with the likes of Melody Maker. "The standard reference work, I suppose, in the 60s and 70s, and sometimes in the 50s, was Beat Instrumental, which all the guitarists got, which listed new equipment and reviewed new equipment, and so I used that," says Peter. "I've got a collection of those from the 50s through to the 70s."
Tristram Tuffrey, Peter's son, also helped him to write the book. In the case of Mike Pender, Peter spent about three or four hours with him, talking over pizza and coffee, and in the book details his use of the Rickenbacker. Peter also spent time with Andy Fairweather Low, who in addition to his time with Amen Corner and becoming a successful solo artist, has also played with many of the greats. "I was with Andy Fairweather Low for about four or five hours," says Peter. "Although people think (of him) with Amen Corner and think of him as a lead singer...he was a very competent guitarist, and to prove that he's played second guitar with Eric Clapton, George Harrison, Roger Waters and loads of other people. He's also worked with Kate Bush, and even Joe Satriani. He's quite an incredible guy.
The book is a project Peter has been trying to get off the ground for about 10 years. After getting the go ahead from Great Northern following years of discussion, Covid intervened. Over the years, Peter had got to know a few industry contacts, having previously been an area manager for Music Ground, a company which traded in vintage guitars and amplifiers. "I went to London three days a week from Doncaster. We also had a vintage store in Manchester and Leeds, so I was pretty active. But I met quite a few guitarists in London and, as you could predict, some were very helpful and some were very stand-offish.
Other guitarists who are profiled in the book include Ronnie Wood, Keith Richards, Jimmy Page, Hank Marvin, John Lennon, George Harrison, Peter Frampton, Lonnie Donegan, Joe Brown and Syd Barrett. But who does Peter think is the ultimate guitar pioneer of the era in question? "Well, unfortunately, it's an American, he says. "It's got to be Jimi Hendrix. I know you'll argue that he made it over here and he encouraged a lot of people. "I listen a lot to Joe Satriani, he adds. "It's nearly all guitar instrumental, but I hear a lot of melody in his work, which harks back, I would argue, to The Shadows. "The Shadows influenced everybody with melody in the guitars.
I know guitars have moved on to where it's 1,000 notes a minute, but people like George Harrison always went away, when he was doing a break, to make a melody out of the guitar break and that's what I like. And it's obvious that you can hear it with The Shadows. That's what made them so popular and influenced so many people.
Peter's 130-plus writing credits include his debut novel, Angel From the Gutter, crime fiction Bonique, Doncaster's Electric Transport, Doncaster District Pubs, The Last Years of Yorkshire Steam, British Railways Standard Pacifics, The Last Years of North East Steam and The Last Years of London Steam. As a young man, he studied Fine Art at Doncaster College of Art and then at Leeds University until 1974. "I started a year early because I was expelled for having long hair, would you believe?
British Guitarists 1952-1972: Electric Pioneers by Peter Tuffrey is available to order from www.ypbookoffer.co.uk or by calling 01274 735056.