Whitby - Whipping up a Storm!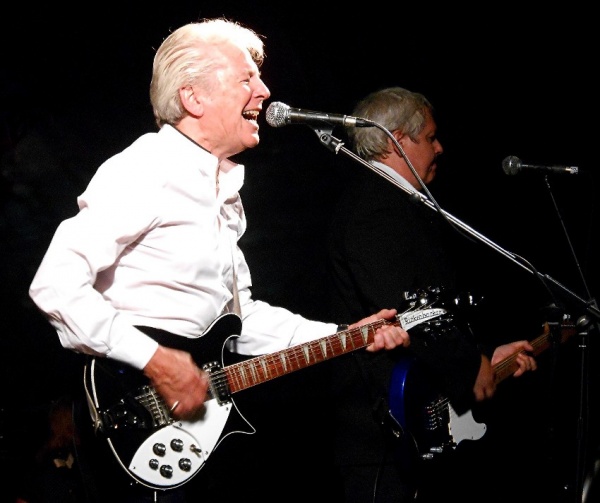 I have now experienced two types of storms in Whitby – one is very wet and windy in the winter; the other is a summer storm of sheer excitement, enthusiasm, cheering, shouting and singing - just great entertainment, all courtesy of Chris Wood, his team and his highly successful Whitby Sixties' Festivals.

Twice a year in June and September he puts on a three-day extravaganza that every year sells out and brings in visitors from far and wide including Europe and Australia! The event starts on a Friday afternoon and finishes on the Sunday. Lots of top sixties' acts, as well as tribute acts, and a really good disco, keeps everyone entertained.

Friday night top of the bill was Mike Pender's Searchers. Many of the crowd on this Friday, the 7th June, will have seen Mike Pender recently in the Solid Silver Sixties tour. That was a great show of course, but many people, like me, also like to see Mike with his own band and in a more 'close-up' venue. No one will have been disappointed about the show that Mike Pender's Searchers put on. Coming on stage just after eleven o'clock they opened up with a medley of 'Sweets for my Sweet' and 'Sugar and Spice'. I am always pleased to hear 'Goodbye My Love' a particular favourite of mine and not heard so much these days. Similarly, 'Take it or Leave it' sounded as fresh as ever.

A mention of this year's Eurovision enabled Mike to sing, 'It's a Heartache', the Bonnie Tyler hit, a good rendition with a good harmony by Keith Roberts who plays rhythm guitar in the band. The PJ Proby number 'Hold Me', always goes down well and Mike Pender has made this his own song with some great guitar solos on his gleaming Rickenbacker 12-string ably supported by Keith on his 6-string. Of course 'Needles and Pins' is a firm favourite and appeared earlier in the show due to public demand, would you believe?

The set ended with 'When you Walk in the Room' so famous for the rifts, sounding great on the Rickenbacker and arguably the best Searchers' hit of the sixties. As an encore we had 'Summer of 69'. Interesting how Mike has 'tailored' the words at the start of this song – 'I got my first real 12-string'– not 6-string as the Bryan Adam's song is actually written – nice touch that.

A great performance to end the first day's music.

Over the weekend other acts included Herman's Hermits and The Merseybeats.

~ Roger from MPS Fan Club


Thanks to Lee Clarkson for the video!