The untold story of Tony Jackson and The Vibrations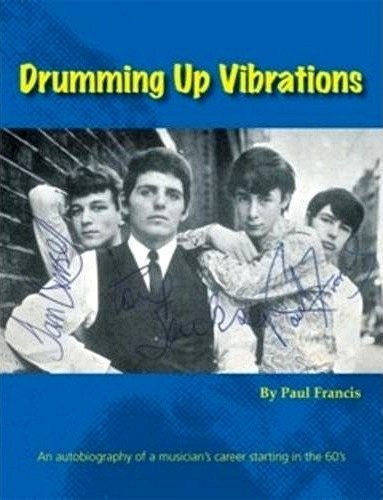 Tony Jackson and Mike Pender were great mates before the Searchers hit the big time and the top of the pop charts. When Tony left the Searchers to form Tony Jackson and the Vibrations, his drummer was Paul Francis who played on all of Tony's solo recordings and he toured with him from 1964 until 1967. He also played on the reunion gigs in the early 1990s and remained close friends with him until Tony's death in 2003. Paul went on to work with many artistes including Steve Harley, Maggie Bell, Jack Bruce and Bill Wyman and he has written a book, 'Drumming up Vibrations,' telling the story of his life and a music career which spans over five decades. A large part of Paul's book is dedicated to telling the previously untold story of Tony Jackson and the Vibrations.

It was Mike and John who 'discovered' Tony singing Elvis songs in a pub in Liverpool city centre and they invited him to join the band. Mike has always been a great Evertonian and he and 'Black Jake', as Tony Jackson was affectionately known, would often go together to matches at Goodison Park.

Tony, of course, sang the distinctive lead vocals on the band's first two major hits, 'Sweets For My Sweet' and 'Sugar And Spice' in 1963, but when 'Needles And Pins' was being recorded in January 1964, it was decided that Mike's voice suited the song better than Tony's vocals. A few months later, Tony announced that he was leaving the band to go solo, a decision that made headline news and not only in the music press. 'Drumming up Vibrations' also refers to 'musical differences' as the reason for Tony's departure, but there were several other issues. Watch this space for news of Mike's upcoming autobiography for more details!

There were lots of good times, as well as bad, in the 1960s and the book describes the many practical jokes that groups played on each other, even during concerts! Tony was highly-talented with a great sense of humour, but could also be very difficult and confrontational, sometimes offering to fight anyone in an audience who upset him! He was away from the music scene for some years, apart from an audition for Mike Pender's Searchers in 1985 and Mike's forthcoming autobiography will describe why Tony had failed that audition.


Tony suffered from asthma for many years, after which came heart and liver problems, followed by a prison sentence for offences described in the book, all of which did nothing for his health. Despite this, he managed to make a few reunion appearances with MPS, the Merseybeats and with the Vibrations in the 1990s. Paul Francis watched Tony's appearance at Birmingham Town Hall in the 1990s, by which time his hair had turned white, but his vocals were still good.
Paul remained a close friend of Tony's throughout the many highs and lows of their music careers. He was at Tony's bedside when he died at a Nottingham council flat on August 18, 2003, shortly after his 65th birthday. Mike was pall-bearer at Tony's funeral held in Nottingham and he gave a very moving speech in tribute to his former band-mate. This well-illustrated and well-researched book is a must for all Searchers and Tony Jackson fans. Paul dedicates it to Tony - "a great vocalist, bass player and friend, who gave me the opportunity to experience the 60s music scene." It is the story of five decades of music containing many pictures and interesting anecdotes and is available on Amazon at a discount price, as are some recordings by Tony Jackson and the Vibrations.


~ article lifted from MPS News, Summer 2012