The British Invasion Tour courtesy of Allison Johnelle Boron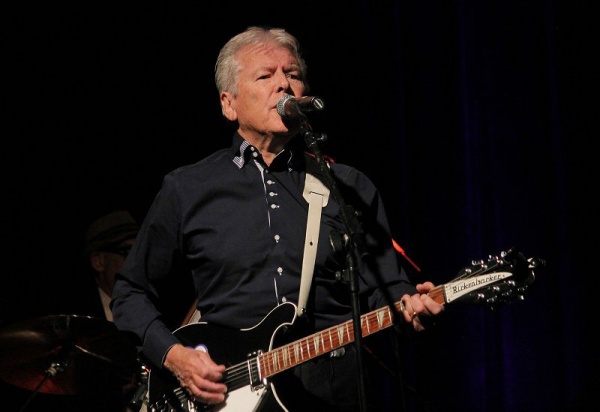 Last fall, the British Invasion Tour began as a commemoration of 50 years since some of the most beloved and well-known artists from across the pond conquered America with their style, wit, and, most of all, their music. After the initial run of successful, cross-country dates, the superstar caravan reassembled for (at least) one more go-round. Undeterred by the snow and ice bearing down on the East Coast, the tour played to packed houses and enthusiastic audiences from Boston to Chicago, from New Jersey to Seattle, and beyond.Once again featuring heavy-hitters Denny Laine, Chad & Jeremy, Billy J. Kramer, Mike Pender, and Terry Sylvester, the troupe was joined full-time by Peter Asher (who deserves a gold star for flying right in from his CBE commendation to join the group in Rahway, NJ). For those who'd caught the shows on the tour's previous run, this time was a chance to revisit those smash hits, but also enjoy a few deeper cuts. Thankfully, the lineup and set lists weren't completely revamped, but tweaked gently to present an exhilarating package and incorporated a multimedia component that only enhanced the visual experience (the musicians took care of the aural one, of course).
Once again backed by a stellar group of musicians (Jeff Alan Ross, Brian Pothier, Erik Paparozzi, and Liberty DeVitto), the who's who of British Invasion stars treated crowds to nearly three hours of high-energy showmanship, making it hard to believe that it's really been over 50 years since their faces first appeared on our shores. Kicking off the festivities was a man that emcee Peter Asher described as a "bon vivant" and "raconteur," Terry Sylvester. Best known for his stints in the Hollies and Swinging Blue Jeans, Sylvester once again warmed up the crowd with his mix of music and witticisms, telling the requisite jokes about gray hair and doctor visits. Although he was originally brought in to fill the gigantic shoes of Gerry Marsden (who fell ill before the tour launched in 2014), this time, Sylvester showed ease and command of the stage. An obvious fan favorite, his short run of tunes was comprised not only of hits like "Bus Stop," "I Can't Let Go," and "Hippy Hippy Shake," but also cuts like the "You're No Good," later made famous by Linda Ronstadt (whose version was produced by none other than Peter Asher).
Up to the challenge of following Sylvester was another Liverpool-born keystone of the British Invasion: the Searchers' Mike Pender. Busting through a string of smashes including "Sweets For My Sweet," "Sugar and Spice," and, of course, the band's two biggest hits here in America, "Needles and Pins" and "Love Potion No. 9," Pender's exuberant energy belied his age and inspired the crowd to jump out of their seats. And though catalog tracks like P.F. Sloan's "Take Me For What I'm Worth" were certainly welcome, this writer is still waiting to hear the Searchers' Sire Records single "Hearts In Her Eyes" (which found its way to the stage in one of the tour's California shows last fall). Although, settling for "Don't Throw Your Love Away" and the Jackie DeShannon-penned "When You Walk In the Room" isn't such a bad deal.
As Peter Asher pointed out in his introduction of Chad & Jeremy, the duo has the distinction of being a real rarity in this day and age — an intact group with all of its original members. As much compelling storytellers as they still are polished and lively musicians, the pair traded banter both between themselves and with the audience, dipping into their well of recorded gems like the ethereal "You Are She" (done "Acapulco," according to Chad Stuart), "Willow Weep For Me," and "Distant Shores," which was preceded by an animated retelling of C&J's appearance on Batman, which, just for effect, was shown on the screen beside the stage.Jeremy Clyde also slipped in "For a While There," a cut from his first-ever solo record, The Bottom Drawer Sessions, No. 1, while Stuart spoke impassionedly about his quest to stop the abuse of wild horses; all of the profits of his latest solo project go to support humane treatment of the animals. Later rejoined by the band, Chad & Jeremy ended their set with the country-tinged "Yesterday's Gone," and "A Summer Song," receiving a well-earned standing ovation from the audience as they closed out the first half of the night.
A few times during the evening, the name Brian Epstein popped up. Not that it's totally shocking; Epstein's fingerprints were all over the British Invasion and are still as unmarred today as they were 50 years ago. Asher, who inducted Epstein into the Rock and Roll Hall of Fame just this past year, recounted the tale of watching Jimi Hendrix with Epstein in the royal box at the Saville Theatre in London. (They also may or may not have smoked hash in "the royal loo" that same night.) Overall, bringing Brian Epstein into the mix only underscored the importance of the impresario's role in orchestrating a movement. After all, he not only represented the Beatles, but a slew of other well-known British acts, including Billy J. Kramer, who tributed his former manager in "To Liverpool With Love," a rousing anthem devoted to his hometown. Kramer's association with the Beatles runs deep, as they not only shared Epstein, but because Kramer has John Lennon and Paul McCartney to thank for a slew of his hits, namely the timeless "Bad to Me." Kramer's extended set also featured the titular track of his latest album, I Won the Fight, Bacharach & David's "Trains, Boats, and Planes," "I'll Keep You Satisfied," "From a Window," and, of course, his non-Lennon/McCartney hit, "Little Children." Indulging the audience's clamor for just one more number, Kramer conjured up his thundering voice for a cover of the Walker Brothers' "The Sun Ain't Gonna Shine (Anymore)," a show-stopper for sure.The show, however, must always go on.
The inclusion of Denny Laine on the tour was something of a pot-sweetening deal; though he was a prominent, original member of the Moody Blues and fronted his own group in the mid-'60s, Laine is best known as a figurehead of Paul McCartney's post-Beatles outfit Wings (and, as we all know, that was a bit past the British Invasion). Even though Laine's set was once again the shortest of the bunch, he kept it tight and exciting, launching straight into James Brown's "I'll Go Crazy" as soon as he took the stage. Of course, there was no way he was getting out of belting out the Moodies' "Go Now!" (on which he sang lead in 1964); he also kicked in the bouncy "Say You Don't Mind," which, five years after he released it himself, became a hit for Zombies' lead singer Colin Blunstone.Last but certainly not least was Peter Asher, introduced most nights with a pre-recorded bit from his pal Eric Idle. Asher is truly a man who needs no introduction, however, because his storied career spreads far beyond his early days as half of Peter & Gordon; to say he's music royalty would be both accurate and literally accurate since, as I mentioned earlier, his name now features a CBE tacked onto the end.
Now relieved of his emcee duties, Asher plowed through his mountain of hits, beginning with Del Shannon's "I Go to Pieces," which he took pride in admitting that he and Gordon Waller nicked after Mike Pender and the Searchers turned it down. Padding out his set with songs like "Nobody I Know," "I Don't Want to See You Again," and "Lady Godiva," the highlight of Asher's time onstage was Buddy Holly's "True Love Ways" — a duet with his deceased partner Gordon Waller via a video and audio feed. Perhaps the most telling element of the tune was Waller's ability to still earn standing ovations from beyond the grave, which he did every night.
Asher polished off his set with another Lennon/McCartney composition and Peter & Gordon's biggest hit, "A World Without Love." He explained the genesis of the song simply, adding that Paul McCartney was living with his family at the time it was written and conveniently leaving out the part about McCartney's long-term romance with his sister, Jane.Nevertheless, Asher left the stage with big-time cheers from mesmerized audience members, who didn't stop applauding until Denny Laine retook the stage for an all-star encore. Continuing the tradition started last fall, Laine ripped into "Band on the Run," causing a wave of gleeful shrieks to ripple throughout the house. Gradually joined by all of the night's artists, the final number was a fitting culmination of an electrifying evening.
For many who didn't get a chance to catch the show on its first outing, particularly fans in the Midwest, the 2015 leg of the British Invasion Tour was a once-in-a-lifetime opportunity to see the actual hitmakers performing their actual hits. Whether you were a first-generation fan holding a '60s ticket stub from an original package tour or a fresh-faced teenager experiencing this material for the very first time, the importance of what took place onstage wasn't lost. Let's keep perpetuating the legacy of this important musical movement, and, in the meantime, keep our fingers crossed for a British Invasion Tour 2016.
Special thanks to Daniel Coston for Mike's picture