'Sweet Search For Success' - by Jim Stewart, for The Beat Magazine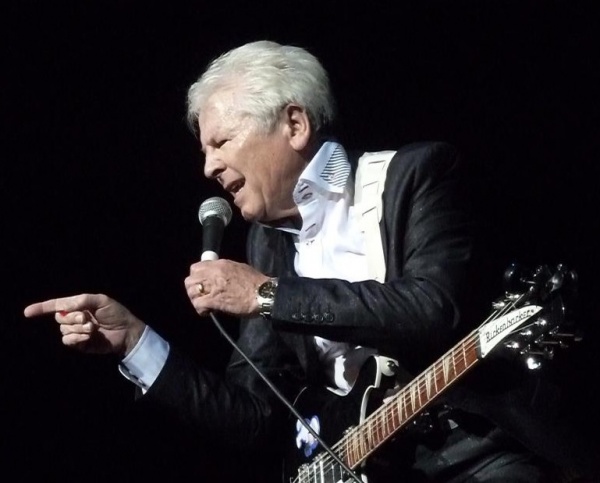 Making your first record as a teenager, your thoughts are only about 'whether it will chart', 'will it make number one?' and I'm going to enjoy this ride for as long as it lasts. All of the stars of this year's Solid Silver Sixties Tour, Mike Pender, Dave Berry and Wayne Fontana would have had these thoughts in 1963, never imagining those songs and the subsequent hits that followed would keep them on the road, playing to packed houses, for the next 50 years.

The tour began on March 7 in Sheffield, with three dates in Kent at The Orchard Theatre, Dartford on March 24, Assembly Halls, Tunbridge Wells on April 5 followed by Leas Cliff Hall, Folkestone on April 17, concluding on April 28 in Norwich.

In July 1963 Mike Pender went into the studio, with his fellow Searchers, to record the first of their three No. 1 hits – 'Sweets For My Sweet'. I asked Mike what was the significance of the Anniversary and the current tour. "The Solid Silver is probably the most important of the sixties tours, definitely: if an artist wants to tour, this is the one to do, and this year is especially important as it is 50 years since we first went into the recording studio to record our first No. 1", said Mike.

I saw you in September of that year on the Roy Orbison tour with Freddie & The Dreamers, Brian Poole & The Tremeloes, half of that week's top 10, in fact.

"I remember it well: can you remember how much it was to get in (8s/6d), I can remember Roy Orbison fondly, he was a lovely guy. We actually took him to a football match on that tour. I don't think he understood what was going on, as most Americans don't understand English football either. Roy was the ideal person to tour with, because when we went on, or The Beatles, or one of the other groups, there was so much screaming, you couldn't hear a sound; but when Roy went on they listened, you could actually hear a pin drop – 'he was brilliant'.

One thing that was particularly good about that time – ignoring The Beatles – is that both you and Gerry can go on stage together and sing virtually any track from your first albums and the audiences know them as well as your hits. "I suppose that even if they don't remember the name, as soon as the music starts, they recognise it instantly and love the song"

This year is your 50th Anniversary of The Searchers' first hit.

"That's right, it was; 1963 was big, but probably 1964 was even bigger because that was when we first went to America and we had the big success with 'Needles And Pins'. That was when we really became – maybe not the right word, but – household names, 'Needles' and 'When You Walk In The Room' are the songs that most people remember. They've both got great guitar riffs, both notable songs."

You always used to find great songs to cover.

"In those days most people didn't know them as covers because they didn't know the original versions, let's face it, all of The Searchers' songs were covers, but nobody had heard 'Someday We're Gonna Love Again' or 'Don't Throw Your Love Away' before, there was so much good stuff to pick up."

I'd always go and hear the songs that you and the other beat groups would play, and next day I'd be out tracking down the original versions.

"Doing that became a great hobby: Chris Curtis used to do it, and I've said in my memoirs – that I'm writing now – that, without Chris in those early years, I doubt that we would ever have made it to the Star Club in Hamburg. He wasn't so good sound-wise, but visually he did it for us. He attracted all the attention, especially from the girls."

Unlike The Beatles, you had to rely on songwriters because you didn't write many of your own songs.

"If you can write and perform your own songs in this business, you've got it made. I've written songs but most of them end up in the wastepaper bin, but one that I'm proud of is 'He's Got No Love' which I did with Chris, but to be fair, he came up with most of the lyrics, while I provided the tune and the riffs."

Your last albums for Sire were very creditable and adventurous albums.

"Again, it comes down to, if you're not writing your own records you need to be pointed in the right direction to find the great songs. Seymour Stein of Sire Records saw us in a club, somewhere like Southend, doing all our old hits and said "You've still got great voices; I'm going to put you back in the charts." He gave me so much confidence, so they signed us. We made some good records, especially 'Hearts In Her Eyes' which should have been a hit, but just didn't happen for us."

With the 50th Anniversary coming up, is there any chance of a reunion, even for just a one-off gig?

"I've got to say: I really don't think so. I'm not one to say 'never say never' but I don't see it happening."

~Jim Stewart

Thanks to David Parker of The Beat magazine, for allowing this article to be reproduced for MPS fans.
David is offering half-price subscription to Beat Magazine, for MPS readers not already subscribed.
12 copies for the price of 6 for one year - (£20 instead of £40) - or £10 for 6 months - 6 issues.
David Parker tel: 01722 716268
E mail: davidoparker@aol.com
Web site: www.kingsleyhousepublishers.co.uk