Stars pose for the 1964 Ready Steady Go Rave Mad Mod Ball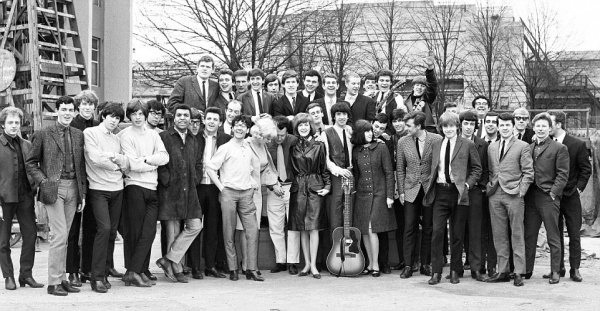 It was April 1964, and this photo captured rehearsals for the Ready Steady Go Rave Mad Mod Ball at the Empire Pool Wembley. And, with the exception of The Beatles, who four days earlier had overwhelmed America by having the top five records there, nearly all of the beat boom stars are here, a first crop of what would soon be a golden generation of British pop stars.

Most dominant are the Merseybeat acts, like Cilla and others from Liverpool's Cavern Club, the Searchers, the aptly-named Merseybeats and heartthrob Billy J. Kramer with his Dakotas and the Fourmost, both of whom got John Lennon's cast-off songs that weren't good enough for The Beatles. And what a conservative-looking crowd of kids they were, or, should we say, gang of boys, because pop then was an overwhelmingly male profession.

There's Paul Jones, still with Manfred Mann, Freddie And The Dreamers and Sounds Incorporated.With the exception of Cilla and Cathy, the only other non-male is blonde-haired Kathy Kirby, she of the shiny lips and tight dresses, who seems to be in conversation with Keith Fordyce, the show's other presenter.

What do you first notice about them? Jackets and ties, hair for the most part well-trimmed and almost all shoes respectfully shone. Were it not for the guitar in the centre it could be any group of young Sixties male office workers and pretty shorthand typists celebrating a collective Pools win.But look a little closer. Isn't that Mick Jagger next to Keith Richards, letting the side down with their longish hair and louche jumpers in the bottom left-hand corner; over on the right there's fellow Rolling Stones Bill Wyman and dandy Brian Jones.

Where's drummer Charlie Watts? Oh, yes, up there in the back row, as glum as ever.And the girl in the leather coat who looks like the boss's secretary? Surprise, surprise, it's Cilla Black — not long out of the typing pool and a star for less than six months.

And at least half the performers here haven't adopted a trailblazing Beatle moptop. Shoulder-length hair on men was years away. As for moustaches and beards, they were for old men (OK, Manfred Mann has a neatly-trimmed beard, but he was a reconstituted jazzer, and therefore cerebral.)

The people in this photo might have been going to a charity mod ball, but there isn't much particularly mod or even modish about them. Casual smart was the style for stepping out in then, whether it was going to work, to the local youth club or to appear on TV.These guys probably wouldn't have had many more 'best' clothes anyway, because what we see here, with only one or two exceptions (yes you, Bill Wyman), is a generation of grown-up war babies.

Thrilled by their good luck, they are young and mainly working class, born in the bomb-threatened early Forties and brought up and educated in Fifties austerity.When this photo was taken, they were mainly in their early 20s and just about to be part of an explosion of opportunities to which their talents and the times gave them a kind of life their parents' generation could never have imagined.No wonder — Charlie Watts aside — they looked so happy. And I bet even he was smiling inside.