Solid Silver Sixties Show, The Orchard Theatre, Dartford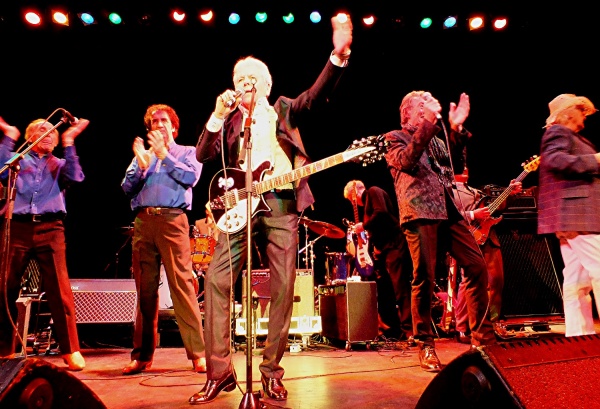 Celebrating 50 years since the dawn of the Beat Era, this year's Solid Silver 60s tour arrived at the Orchard Theatre, Dartford, with four of 1963's big names intent on bringing the memories flooding back.

New Amen Corner opened the evening with a couple of the original group hits 'Bend Me Shape Me' and 'Fly High In The Sky' and continued to do an excellent job of backing all of the solo acts.

Wayne Fontana was on first recalling 'Um Um Um Um Um Um' and 'The Game Of Love' getting his loudest applause, not only for his version of 'In Dreams', but also for his 'rant' and the lyrically adjusted 'Something Inside So Strong'.

The Merseybeats played four of their own hits, including 'Don't Turn Around' and 'Sorrow' with tributes to the Everly Brothers and Walker Brothers with 'Let It Be Me' and 'The Sun Ain't Gonna Shine Any More', closing with 'I Saw Her Standing There' and the anthem 'Hi Ho Silver Lining'.

Playful as ever, Dave Berry opened with 'Memphis' and 'Route 66' followed by 'I Knew The Bride When She Used To Rock 'n Roll' and 'Gimmee All Your Loving', slowing the pace down for 'The Crying Game' and a moving rendition of 'The First Of May'.

With an unbelievable catalogue of Searchers' hits to choose from, Mike Pender gave us eight songs including 'Don't Throw Your Love Away' and 'Goodbye My Love', delivering the performance of the night with 'A Working Man', getting a deserved standing ovation, returning with ELO's 'Don't Bring Me Down' before inviting all of the artists back for the 'Glad All Over' finale.

This show's four acts, still at the top of their game, gave their best performances when they went beyond their own material.

Another winner from Flying Music!

~Courtesy of Jim Stewart of The Beat Magazine

Thanks to David Parker of The Beat magazine, for allowing this article to be reproduced for MPS fans.
David is offering half-price subscription to Beat Magazine, for MPS readers not already subscribed.
12 copies for the price of 6 for one year - (£20 instead of £40) - or £10 for 6 months - 6 issues.
David Parker tel: 01722 716268
E mail: davidoparker@aol.com
Web site: www.kingsleyhousepublishers.co.uk ?xml:namespace>