SOLID SILVER SIXTIES 2015 - LOOKING BACK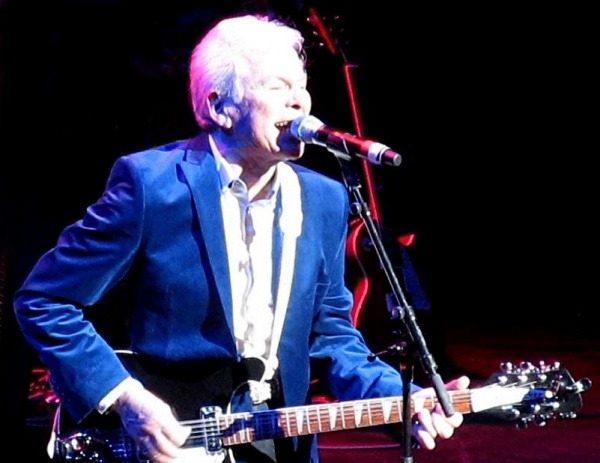 After 30 dates in 36 days, the cast and crew of this tour will be pleased it's over, for a well-earned rest – a hectic itinerary this year, but for the audiences it is a sad time because we must never forget that with the average age of our sixties' stars reaching 73/74 years, the shows cannot go on for many more years. So when these tours are on, make sure you go and see the original stars of that wonderful sixties' music.
Mike Pender asked his audiences two questions – This is the 30th Solid Silver tour; did any of you come to the first one? How long do you think these shows can keep going? Answers were – No one could remember that far back – something to do with your memory as you get older, I imagine, and Ten years to the second question.
Well let's hope so then. I saw two shows, Leeds and Hull, both were packed venues and both were hugely enjoyable shows. Even with Hull being near the end of the tour, there was much enthusiasm, good humour and enjoyment taking place on the stage, a marvellous atmosphere. What was particularly evident to me this year is that I came away from both shows with particular songs in my mind – they still are!
The bill went like this. New Amen Corner opened up with two songs then introduced PP Arnold. This lady is a great performer with a super voice and she told about how she became a star after coming to UK as a backing singer for Tina Turner. Her memorable song for me was 'First Cut is the Deepest' – a big hit for her, of course.
She was joined by Chris Farlowe for a duet –'Private Number', well performed. Chris Farlowe did a great set and works very well with New Amen Corner, the sax player is very good. He started with 'I'm Giving it Up', then did his renowned 'Handbags and Gladrags' finishing with 'Out of Time' the classic song of the sixties. His memorable song for me was' I Don't Want to Love You Anymore' – great song and a brilliant performance.
To close the first half were The Merseybeats. Always giving a good show, with fine vocals from Tony Crane and Billy Kinsley. Theirs was a polished performance, as always, with a good mix of hits and other sixties songs, nothing memorable for me here though.
Opening the second half, backed by New Amen Corner, was Mike Pender with trademark Rickenbacker 12-string guitar, wearing a rather plush blue jacket and a diamante belt – very smart indeed.He performed some classic songs like 'When you Walk in the Room', 'Needles and Pins' and 'Love Potion No 9' which featured some very nice licks on his 12-string. He left me with two memorable songs, both of which were recorded when he was still with the Searchers (prior to him forming Mike Pender's Searchers), these were 'Four Strong Winds' and 'Solitaire'.
For 'Solitaire' Mike sang without his guitar, with superb backing by New Amen Corner. His voice was absolutely superb and the ending note, which is very high indeed, was pitch perfect. AMAZING!
Closing the show was Billy J Kramer with his own USA based backing band, The Rising. Billy performed many of his hits like 'From a Window', 'Bad to Me', 'Little Children' and a song from his new CD. His memorable song for me was a self-penned song 'To Liverpool with Love' a catchy song that went down well with the audiences. The finale was performed by all the cast – 'Glad All Over'. A strange choice because they did that same song on last year's tour.
It was reported in the press, and on social media sites, that one or two of the shows at the start of the tour were not, shall we say, up to scratch. I would say that Billy J Kramer appeared rather nervous at the first show but not so at the other show. It was his first UK tour for 19 years so he could have been a bit nervous. Well, all I can say is that perhaps a bit more rehearsal time was needed because I could not fault the show as a whole, choice of performers, choice of songs, actual performances and production and sound. I did think the sound system looked a bit on the small side but it certainly didn't present a problem at the two venues I attended.
As I said earlier – it is the first time (that I can remember, that is!) that I still have those memorable tunes in my head and have even been on YouTube to find them – now that is so not me!
Roger Askey