Original Searchers' vocalist to revive 60s' sound - Philippines Star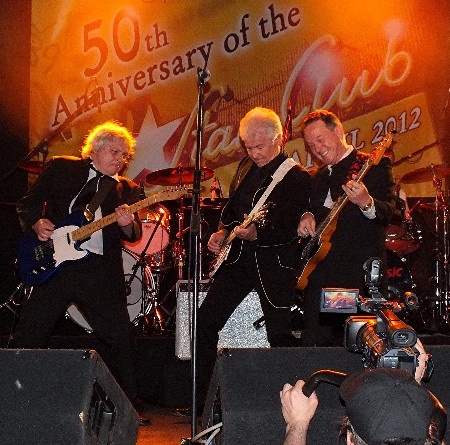 The Searchers' original lead vocalist Mike Pender will perform 10 to 12 hit songs backed up by Marmalade in a rousing rock 'n roll revival of the British Invasion of the '60s at the Newport Performing Arts Theater of Resorts World Manila tonight, highlighting a bill that features six top bands of the era.
It's Pender's first visit to Manila since packing the Araneta Coliseum with The Searchers in a series of sell-out shows in 1966. Pender founded The Searchers in 1962 with rhythm guitarist John McNally then broke away in 1985 to form his own band. He's the voice of The Searchers hits Needles and Pins, Don't Throw Your Love Away, When You Walk In The Room, Love Potion No. 9, Goodbye My Love and Take Me For What I'm Worth which are in his set list for Monday's gig.
Pender is also considering to add Sweets For My Sweet, What Have They Done To The Rain, Four Strong Winds, among others to his repertoire."I can't really remember too much from our visit in 1966," said Pender in an overseas telephone interview from his home in Malpas in the southern Cheshire countryside near the England-Wales border.
"What I remember was we performed before big crowds and we were hosted by the Araneta Coliseum owner. We stayed at Mr. Araneta's white plantation house which was beautiful. It was a fantastic visit and now returning after nearly 50 years, I think our sound is much better than ever. We're ready to give the Filipino fans a big treat."Mike Pender is the voice behind the Searchers' greatest hits, including Needles and Pins and Don't Throw Your Love Away.

Pender arrives with his wife of over 50 years, May. Others in the tour are Spencer Davis (Keep On Running, Somebody Help Me, Gimme Some Loving, I'm A Man), The Tremeloes (Silence Is Golden, Twist And Shout, Here Comes My Baby, Do You Love Me), The Troggs (Love Is All Around, Wild Thing, With A Girl Like You), Marmalade (Obladi Oblada, Reflections Of My Life, Lovin' Things) and The Animals (House Of The Rising Sun, Don't Let Me Be Misunderstood, We've Gotta Get Out Of This Place).
The travelling musicians left the UK last Thursday and will do one-night shows in Dubai and Singapore before proceeding to Manila. The final stop is Bangkok to complete the one-week tour.
"Last year, I did two US tours and this year, I did a 30-day Solid Sixties UK tour with P. P. Arnold and Chris Farlowe and just finished an 18-day US tour with Billy J. Kramer, Denny Laine (Moody Blues, Wings), Peter Noone (Herman's Hermits), Chad and Jeremy and Terry Sylvester (The Hollies)," said Pender. "I try to limit myself to just one or two major tours a year. But there's so much ground to cover. My son Michael is the drummer of my band. He's not joining the Manila tour because of work back home

http://www.philstar.com:8080/entertainment/2015/05/11/1453341/searchers-vocalist-revive-60s-sound