Mike with Terri Hemmert, DJ at WXRT-FM Radio in Chicago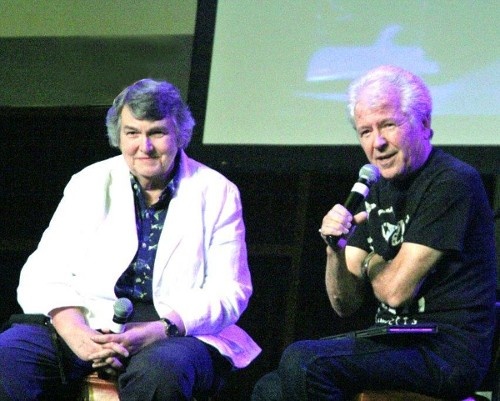 Mike is pictured during an interview session at the 50th Anniversary Beatles' Fest in Chicago withTerri Hemmert, a disc jockey at WXRT-FM radio in Chicago since the late 1970s. Terri was the first female rock and roll radio host in Chicago and is a member of the National Radio Hall of Fame.

The picture is of an interview session held on the main stage on the Saturday of the Fest. Terri conducted the interview for about 35 minutes, then Mike took questions from the audience for another 15 minutes.

He did another of those sessions on Sunday, besides playing with the band, 'Liverpool' at night and having a couple of combined sessions with other guests including Micky Dolenz of the Monkees and Beatles' author Mark Lewisohn, Laurence Juber and Mark Rivera.

~John Grochowski
Photo courtesy of Sue Park-Mason, Fennville, Michigan.