Mike tells Jason Barnard about his musical journey and about his autobiography 'The Search For Myself'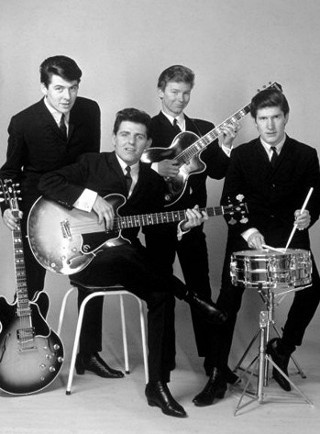 The Searchers were one of the biggest bands of the Merseybeat scene, with a string of timeless 60s hits and critically acclaimed releases until the early 1980s. Mike Pender, one of the band's founder members and lead singer in this period has finally told his story through his autobiography 'Origins of the Searchers and The Search for Myself'. Mike tells Jason Barnard about his musical journey and new book that for the first time uncovers what really happened all those years ago.

Mike, you've written an excellent autobiography, it seems that it's your opportunity to tell your side of the story.
Obviously over 50 years you get times when somebody brings it up and of course you need to think seriously about doing it. However I never got around to it until about 4 years ago. I was motivated after I realised that after reading a few articles. What had been written in magazines and books was wrong. You think "That wasn't the way it was. That needs to be written by someone who was there for future generations". Last year a friend in publishing said that if you do it your way and publish it yourself you'll get exactly what you want in the book. So I did that as it's got to be right. It actually came pretty easy once I started to do it. The reviews have been very good.
With "The Search For Myself" you get the opportunity to share information about things I didn't know. Everyone speaks about The Beatles and The Cavern in Liverpool. But for The Searchers it was The Iron Door.
The Iron Door was our home for a long time. Les Ackerly, the manager we had for a short time before we went to London, run The Iron Door. He ended up calling it 'The Iron Door the Home of The Searchers' because we played so often there. We recorded one of those acetates, like a demo record, there. We did about 10 songs and there were all sorts of rock and roll songs that we liked, 'Some Other Guy', 'Hully Gully', different songs that each member of the band liked. One of them was 'Sweets for my Sweet', which we picked up off an old Drifters album and found by Chris Curtis. We made that our own and put it in the set. Tony Hatch came up to Liverpool, he'd heard the acetate and said he liked the song. When we came back to Liverpool after our second stint in The Star Club in Hamburg, Tony was ready and waiting for us to take us to London. After recording that song within six to eight weeks it was shooting up the charts to number one, an overnight success.
Things went fast things went in those days. You mentioned The Star Club, and you released an album recorded there. I'm not sure this was released at the time but I like your version of 'Beautiful Dreamer'.
I first heard The Beatles singing it in the Cavern. It just stuck with me and we started to do it as well. Groups were like that in Liverpool, you'd get half a dozen groups doing very similar songs. Every group that I knew did 'Some Other Guy', the Richie Barrett song. The Beatles did it, we did it, Gerry and The Pacemakers did it and a host of other groups did it. 'Beautiful Dreamer' was so different done the way it was originally. Roy Orbison did a version and his is totally different to ours. So you get that with songs, you try to make a little bit different. And that was one of the songs we did at the time. We didn't sing it for long though.

Was it Chris that found 'Needles and Pins'?
Actually, we all found that song after hearing Cliff Bennett and The Rebel Rousers at The Star Club. What a great song, what great words. It's one of those songs that people associate with. Like a love story, you meet someone, you break up, you see her again. It's all that isn't it? Although we knew about it, we actually got Jacky DeShannon's version, which was more acoustic. She's got a unique voice, a bit of hoarseness there as well as a true American twang. I remembering saying to Chris "We can do that totally differently." and I think we did. You have to do that because if you find a song already been recorded by somebody, you have to make people stand up and say "Well you know I've heard it by so and so, but the version by The Searchers is really good."
After we'd had the success of "Sweets for my Sweets" and "Sugar and Spice", we'd almost had to fight the powers that be at Pye, people like Chairman Louis Benjamin, to get 'Needles and Pins' released. They obviously felt that we should release another "Sweets for my Sweets" and "Sugar and Spice" type song, sugary poppy. But we said "No. We've got to change slightly". We thought 'Let's change and do something a little bit different and a little bit heavier, something with a story, and something with more soul in it.' Tony Hatch agreed and that's how we got 'Needles and Pins' released. We were definitely proved right.
So was that your second number one?
It was a second number one, 'Sugar and Spice' never quite made it to number one. In those days there were musical papers, like Record Mirror and the New Musical Express. In a couple it got to number one. But they balanced it out as you had to be number one in four or five of them. But it was big enough wasn't it? But yes 'Needles and Pins' was the second one, followed by 'Don't Throw Your Love Away'.
This is another perfect example of The Searchers taking a relatively obscure US song, putting your mark on it, giving it a commercial edge to improve on the original.
Yeah that's what you have to do. I remember sitting in Pye Studios with a bunch of 45 records from America. The Pye people were sitting there with us and say "Look let's go through these and see if we can find the next single." Obviously after 'Needles and Pins' you thought that "You cannot find a song better than that." But we were going through them and we come one by The Orlons. We'd heard the A-side on the radio, we flipped it over and on the other side was 'Don't Throw Your Love Away'. We thought "Let's have a listen to that. We sat there and thought "That's quite a nice song", Chris said "Yeah, we can get some nice harmonies on that." It's got a nice melodic sort of tone to it, nice rhythm guitars behind the voices. Our version had the usual figure that we put in on our singles. We put that in because that's what people expected of us along with the harmonies and jangly guitar. The next thing we got another number one.

You were really in your purple period at this point.
Yeah, 1964 was probably our biggest year; that was the year we went to America. When 'Needles and Pins' was released in late 63, just before we went to America, I remember popping the question to my girlfriend, Miss Doyle as I called her. I met her at The Cavern and said "Let's get married". I knew I was going to be away a long time, going on world tours, and I didn't want to take a chance on losing this lovely young lady. Anyway she agreed, although she was a bit hesitant because that was like most young ladies were. They want to wait for summer time with a nice floral white dress and lots of people. But love conquers all and she agreed. We got married and didn't tell the band or the management, just our families. Sometimes you do things like that. I've always done things in my career and in my life. I've made decisions on the spirit of the moment, taken my chances and 99% of them have been great. I've never made a wrong one, not a big one anyway.
But back to 1964, we did the Ed Sullivan Show. You have to do it there as America is so big, otherwise you can't get into everyone's front room on the television. We were so over the moon to get on like The Beatles and a few other groups did. Our manager, Tito Burns, said at the time "You've made it boys. I can tell you, not everyone gets on The Ed Sullivan Show". It has to go down as one of the big points in our career. Without it I don't think we would have cracked it like we did because we became a bit of a household name over there. I can actually still go there and perform today.

Later 'Love Potion Number 9' became really big in the States didn't it?
It gave us quite a surprise. I remember doing recording session in Pye, we got a telegram and one of the guys came down from the offices upstairs and said "You guys are number one in America with 'Love Potion Number 9'. Actually I tell everyone it's number one but I think it was number two. It was the biggest selling record we had there and it came late in our careers, 1965 as I recall. It stood us in good stead. It's got that sort of American thing about it and mentions American streets, so they took it to their hearts and went out and bought it. It's one of those songs that always goes down well.
'When You Walk In The Room' was the first single that Frank Allen played on after Tony left.
It is surprising really, people can't get over that. It was only 12 months in to our careers as possibly one of the biggest recording acts or groups of that period that one of the members decided to leave. Unfortunately you got four people, four different egos, four different personalities. Tony, Chris and myself were more or less the three lead singers in the band and we all had our own set of fans, probably a bit like The Beatles with John, Paul and George. That's a good way to build a big fan base and it certainly bumps up the sales. But it happens that Tony decided that he wanted to leave. Things weren't too good in the band as I recall, certainly Tony and Chris weren't getting on together. Chris met Frank Allen and they became really good friends. You could tell that whether John or I liked it or not, Chris was going to get Frank into the band. And so in 1964 just before we recorded 'When You Walk In The Room', Frank joined and he played bass on that record.

'What Have They Done To The Rain' really showed the folk side to the group and stood the band apart from your peers.
This told a story about the band, we weren't steeped in rock and roll all the time. We did like the other side of the coin, the country style and folk. Chris had a vast record collection and had all kinds of records. It was written by Malvina Reynolds but the version we went by was Joan Baez. We thought 'What a lovely song'. It's one of those songs where you got carried away by the melody and you don't pay too much attention to the words. I sort of missed what it was all about when I first heard it. It wasn't until we were recording the song and we were talking about it that I realised that it was like a protest song. It was what was happening in the world, or what could happen if things went too far.
Your single 'He's Got No Love' was written by you and the band. It sounds like that there's a little bit of a Stones influence on it.
Of course. We were on tour with the Stones in Australia in 1966 and they were coming through to being so big. I had an idea, we were on the coach one day and they had a Stones single on, with a certain guitar riff. I got the idea that we could use something very similar. And I played the guitar figure to Chris and I said "Look, it's that sort of slide thing, we could sort of do something. What you think about writing a song? 'I lost my love hmmm hmm." Chris wrote like 85% of the lyrics for this song, it was my idea, my sort of melody, but Chris's lyrics.
The eventual outcome was a pretty good song and it was that good that Tony said "Why don't we do this as a next single?" And we did, it's the only song written by members of the band that got into the charts. We worked out how to play a song put it together and here we are with a single being played on the radio and it's got into the top 20. So I put that as a feather in my cap. It is quite strange when you think that shortly afterwards Chris decided to leave. On that tour Mick Jagger was getting all the applause on stage, the plaudits and the screams. Chris felt "We were like that. Just like a couple of years ago we were in that position." You know in this game you have to realise that if you're at the top you can't stay there. Different acts come along. There's always going to be somebody else who's better than you. You have to accept that sooner or later you're going to be slipping down the ladder a little bit.

From reading the book, it sounds like Chris was the driving force of the band in that early period.
He was the driving force even in the early days, he was the one. I think he was responsible for getting us into the Star Club. He was just so outlandish and outrageous. If you've got someone like that in the band, people stand up and take notice. Whether we would have been so big without Chris remains to be seen. But I think he was a good 50% of where we got to.
Did it set you back a little bit?
A big bit. I think that we realised then that the actual recording side of our careers was probably at an end. And certainly since that time we have never come up with anything. Over the years I stayed and tried to make a comeback. I went into studios, time after time with different record companies, with people saying "You've still got a hit in you, you guys can still do it". And I actually believed that we could; going through the 70s, different record companies from Pye Records to Liberty, from Liberty to RCA, from RCA to Sire records and then onto PRT records. During that time we had some good singles.
One of the late Pye singles is 'Popcorn Double Feature' from 1967. It's one of my favourite singles by The Searchers and was a minor hit.
It wasn't a song that really grabbed me actually. You get songs offered to you and record companies say "Give it a try, let's go and do it in the studio and put it down" You think, "You never know it just might be. It's a quirky type song that just might get in the charts." So you go do it and do the best job you can. It's a song that I've never really gone on stage and done. If I'm honest there's isn't anybody I can remember that ask for 'Popcorn Double Feature'. But obviously there's going to be people who like it and Jason you're one of them.
In that period, the music scene was changing, bands getting into the influence of drugs and things like that. Did you feel pressured to change your sound?
Yeah we obviously were trying to change. I can remember actually changing the name of the band for a certain record. You know you try all kinds don't you and things are suggested to you by record companies. You think "Let's do this, let's do that" but you get to a point where you think, "We'll try anything" but it's without success again.
When The Searchers joined Liberty, you first single was 'Umbrella Man'. It's really nice song but again it just didn't make the charts.
None of those later songs did. 'Shoot 'Em Up Baby' was another song we did with Liberty. I didn't mind that one so much but 'Umbrella Man' again was never been one of my favourites and not a lot of people remember it.

Jeff Christie of The Outer Limits and Christie was sent an acetate recording of a version that you and The Searchers did of his track 'Great Train Robbery'. Do you remember that?
I remember somebody sending his demo acetate to us. I though it was pretty novel, there'd recently been a 'Great Train Robbery' so people could relate to it. Whether it was good enough for a single I don't know. But we recorded it, probably because I was into trains in a big way. As a kid I was a trainspotter and I've always loved British steam locomotives. Even today I have a huge train set at home in my house. It was a pretty good song and is certainly one of those moments I remember.
On The Searchers' boxset, there's an unreleased song 'For What Its Worth'.
That's another of those songs that's been buried in obscurity. It's a Buffalo Springfield song and one of those songs that I always liked. The band were the beginnings of Crosby, Stills and Nash who were one of my favourite American groups. That sound went onto groups like The Eagles, that's the kind of music I like. It's nice to have been mentioned we've influenced somewhere along the line people like Tom Petty and The Byrds.
You and The Searchers then signed a deal with RCA, 'Desdemona' that was a minor hit in the States in 1972.
I like that track, it's a bit different. I thought it suited our sound. But it scraped in the bottom of the charts and that was it. Although I have a soft spot for it I was never convinced. It's a song that I used to do it a long time ago but I don't do it anymore.
Another RCA single was 'Solitaire', I think it's your best vocal.
That's very kind of you and in fact a lot of people do say that. It's almost a solo recording. I remember they got the backing track provided by some beautiful instrument players, violins and string quartet and piano. I put the vocals on. It's such a nice song written by Neil Sedaka. I can remember at one of the BBC's studio when we were trying to promote the song Neil Sedaka was there and we were introduced to him. He said "You did a great version" but with Andy Williams also doing it he got all the plaudits and his record sold a lot more than ours.
We missed out; people say to me "Mike, your version is really good; we thought yours was better than Andy Williams". But it's down to promotion, it's down to the BBC, it's down to the plays you got in the radio. If you don't get enough, people don't hear it and they only heard the Andy Williams version sadly. It's been a story about our lives from the mid-60s, trying to be successful with records again and again.
'Hearts In Our Eyes' is known as one of the best known from the Sire albums that you did.
Now that was a good song. I love that song, nice guitar riffs and harmonies. It's a good story written by John Wicks and Will Birch. Sire thought that they were going to have a big hit with it but it wasn't to be. We missed out again, lots of people said they loved it. Lots of people said it should have been a hit but it wasn't. I like doing it and it's a song that we got lots of requests for, so we keep it in the set.

Moving into the mid-80s you left The Searchers and started Mike Pender's Searchers and you did a version of 'Take Me For What I'm Worth'.
It's a good song and still goes down very well in America. I still do that today. It's got a good story and guitar break and I probably made it my own. It's a great title and the words are good.
You were part of Class of 64 and recorded 'Falling Apart At The Seams'. It seems to highlight the strong bond that you have with many of the artists related to that era.
People who were there when we making it in Liverpool, like Frankie O'Connor from The Hideaways were on the record Billy Kinsley from The Merseybeats produced. They invited me over to record and it was written by a couple of my good friends from Liverpool. 'Falling Apart At The Seams' is a song title that's been done before but this is a totally different tune and lyrics. I like the song, and now and again we do get requests for it. I like the sound that we got on it.
I wish you all the best with your book and your upcoming shows with Mike Pender's Searchers.
Thanks. We've had great reviews of it, ones that I thought we'd never get. It is a story that has got a lot of truth in it and a lot of things that should have been written about The Searchers. Future generations can read about how we formed, how we went on and how I left and started my own life where I am today.
Mike Pender's excellent autobiography 'Origins of the Searchers and The Search for Myself' is available at all good book outlets. More information can be found at: www.mikependersearchers.co.uk
Copyright © Jason Barnard and Mike Pender, 2015. All Rights Reserved. No part of this article may be reproduced or transmitted in any from or by any means, without prior permission from the author.
http://thestrangebrew.co.uk/articles/mike-pender-origins-of-the-searchers-and-the-search-for-myself