Mike Pender on the Highs and Lows of his Musical Career with The Searchers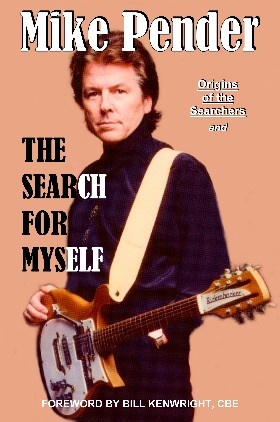 Mike Pender is one of the legends of the Sixties' British music scene.As former frontman of The Searchers, he racked up a string of hits that defined the Merseybeat sound. He's written his life story, which looks at all of the highs and lows and he told Murray Scougall about his life in and out of music.How did you first get involved in music?On leaving school I swapped my collection of American comics for an acoustic guitar.I found it difficult at first and would give up many times before finally learning what I call the three basic chords, A, D and E, and then developed from there.
Where did the band name The Searchers come from?
I suggested three of us go to see the movie The Searchers, starring one of my favourite western heroes John Wayne, and said what a great name it would be for our proposed group.
How did it feel to have your first hit?
I remember lying on my bed after a gig while still living with my parents, listening to my transistor radio and Sweets for My Sweet, our new recording, came on.I never slept that night!
What led to appearing on The Ed Sullivan Show?
When our third single, Needles and Pins, was released our manager told us if it reached the top of the charts we could go to America and try to get The Ed Sullivan Show. We did and we won over America!
What was your worst moment?
I feel my life has been blessed in many ways but we all must accept what fate will bring, as only God knows the reasons why our loved ones are sometimes taken from us.We lost our youngest son five years ago in a tragic road accident.
You left the band 30 years ago – what made you go?
In 1985, after many attempts at reviving our recording career and after our final attempt with Sire Records, I decided to make a better life for myself and family both financially and with the future in mind.So I formed MPS (Mike Pender's Searchers) and still travel the world playing Searchers music as a solo artist today.It's all in the book!
What is your relationship like with your former Searchers band mates now?
When I left in 1985 there was no problem but when, the following year, agents and promoters alike decided to book me instead of the group, it became acrimonious.When in the High Court of Justice my two former partners tried to have me incarcerated for contempt of court– the judge threw out their case although I had to pay their costs – I knew then there would never be a reunion.
Do you still enjoy touring in the music business?
I still love performing today and this year has been fairly busy.After a winter holiday in Tenerife with my family, I was in America with The British Invasion Tour and then returned to the UK for The Solid Silver 60s Tour.Then I played concerts in Asia taking in Singapore, Manila and Bangkok.
What do you like to do when you're not playing music?
I take Miss Doyle with me wherever I go in the world (Miss Doyle is my pet name for my wife May) and in many ways I still look on her as my girlfriend so we do most things together – although I can't stand those cryptic crossword books she's always doing, so I have a few hours with my model trains!
'The Search For Myself' by Mike Pender is out now from Genuine Article Books and is available from Amazon, Waterstones and from Roger at the Fan Club.
http://www.sundaypost.com/mike-pender-on-the-highs-and-lows-of-his-musical-career-with-the-searchers-1.901479