'Meet The Searchers' - from long-time fan, Dave Starrett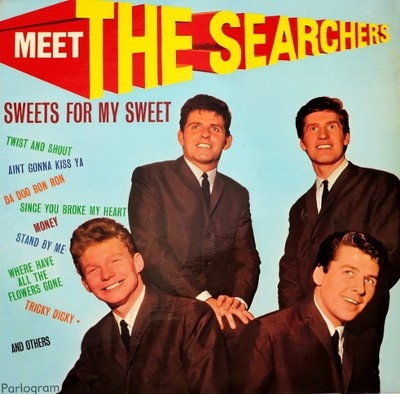 After the huge smash hit of 'Sweets For My Sweet' the inevitable LP was soon released, looked forward to by those who had bought the single and felt this band were something special, as I did. This is the first album I bought and it is still my favourite, just a bit ahead of the 'Sire' recordings.

For Mike Pender fans, this was the first time we had the chance to hear what a great vocalist he is. On the single Tony sang lead, so he was the singer we associated as the vocalist. As I played the album I just loved 'Where Have All The Flowers Gone?' which is the first song I recognised Mike as the main vocalist; this Pete Seeger song has been recorded by countless artists but Mike's version would take some beating.

My favourite track is the Everly Brothers' song, 'Since You Broke My Heart'. It's not often a cover version is as good as the original but Tony and Mike's harmonies were brilliant and were missed when Tony left in 1964.

'Twist And Shout' was a song loads of groups were recording and just right for this album as it grabbed the feel of the moment in time. A real feel of 'Mersey Beat' flows through the whole album with some vibrant earthy tracks such as 'Money' and 'Tricky Dicky'.

'Ain't Gonna Kiss Ya' was a hint they were capable of changing style, which of course they did with many of the hits, including 'Needles And Pins' and 'When You Walk In The Room' songs which established the recognisable sound of the band. When listening to this album you had the feeling that 'The Searchers' were not going to be one-hit-wonders, but here to stay!!!!
~ Dave Starrett

Side 1:
Sweets For My Sweet
Alright
Love Potion No.9
Farmer John
Stand By Me
Money

Side 2:
Da Doo Ron Ron
Ain't Gonna Kiss Ya
Since You Broke My Heart
Tricky Dicky
Where Have All The Flowers Gone?
Twist And Shout

From the album cover:
MEET THE SEARCHERS. . . . . that sensational Liverpool group that swept up the charts with their first single 'Sweets For My Sweet' and have since made hit after hit. They were originally the backing group for Johnny Sandon, but soon decided to branch out on their own, since when they have gone from strength to strength gaining in popularlity with every appearance not only in this country but in America and on the Continent as well.

When Pye recording manager Tony Hatch heard a demonstration record they had made he was so impressed with their dynamic style that they were immediately placed under contract - recorded 'Sweets For My Sweet' and it all happened.