'Four Fresh Faces'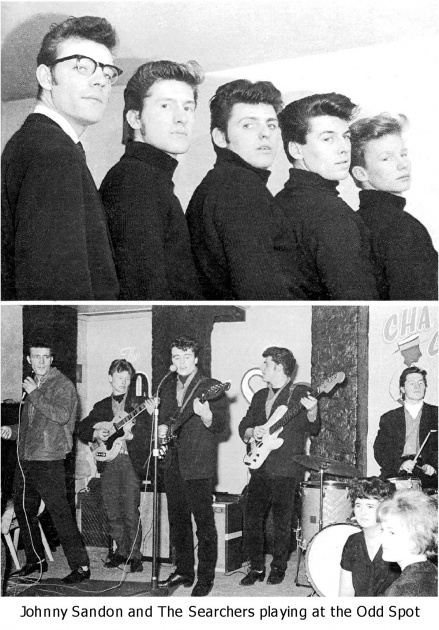 'The Rocking City' by Sam Leach (ISBN 1-901442-29-2) is a very worthwhile read and contains a number of interesting black and white photographs. Whilst it is primarily about 'The Explosive Birth of The Beatles' this book contains much more than that. In fact, on page one, the writer talks of meeting those 'four fresh faces', The Searchers. In my opinion this book is more a 'Merseybeat Chronicle' and the picture of The Searchers with Johnny Sandon singing is interesting as it shows Mike also on vocals.

~ Roger Askey


"I was just twenty-four years old when I put on my first major show at St George's Hall on the evening of April Fool's Day 1960. Johnny Preston was top of the hit parade, as we called it then, with 'Running Bear', about to be displaced by Lonnie Donegan and 'My Old Man's A Dustman'.
Arriving at the hall two hours before the doors opened, I was hoping to be the first there so I could soak up the feeling of the venue. No chance. There was already a queue of about fifty people at the door, all without tickets and looking to pay to get in.
There was also a group of four lads offering to play for nothing. No, it wasn't The Beatles. They were still hanging around The Jacaranda coffee bar, doing odd jobs for the owner, Alan Williams: occasionally standing in for Lord Woodbine's Steel Band, playing the backing music for his strippers and even painting the ladies' toilets.
I would never book a group without seeing them first, but I admired the initiative of those four fresh faces before me and let them in for free. Their names were John McNally, Mike Pender, Tony Jackson and Chris Curtis and before long I was booking them regularly behind Johnny Sandon. I thought at the time they would go far and I wasn't wrong. The world got to know them as The Searchers, a really great bunch of lads, especially Tony, their version of John Lennon".