Digital Journal's Adrian Peel interviews Mike about his autobiography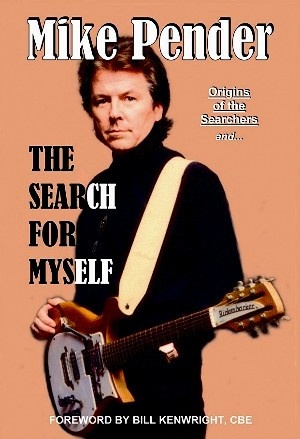 Liverpool - Digital Journal speaks to the leader of one of Merseybeat's greatest acts, early contemporaries of The Beatles and revered for timeless classics like "Sweets for My Sweet," "Sugar and Spice" and "Needles and Pins."

A survivor of the Swinging Sixties, Liverpool-born Mike Pender still regularly tours the world bringing the hits to the masses - as he has been doing for the past five decades - and last year released an acclaimed autobiography, The Search for Myself.

"At the moment, I'm promoting my autobiography," confirms the musician, a singer and lead guitarist who formed the first incarnation of The Searchers way back in 1957, before leaving to form Mike Pender's Searchers 30 years ago. "It's had very good reviews and the next phase will be to get it to America."

Commenting further on its contents, the 74 year old, who now lives in Cheshire, states, "Obviously we were going as The Searchers for quite a long time before I made the decision to leave and form my band, so you've got that 25-year period where I was part of a setup.

"The original band started to break up in 1964. Tony (Jackson, bass player and vocalist) left and then in 1966, Chris (Curtis, drummer and vocalist) left and John (McNally, singer and rhythm guitarist) and I kept it going up until 1985. We brought some other people in - Billy Adamson, Frankie Allen and John Blunt, to name a few...

"We thought we still had a hit record somewhere, but after so many tries, going into recording studios and different record companies, it never happened. So I decided to go my own way and that's really what I'm talking about in the book. I wanted my own band. I wanted to be almost a solo artist, if you like - and it was time to do it."

"No," replies Mike, another British Invasion veteran to have appeared on The Ed Sullivan Show, when asked if he is still in contact with John McNally. "We correspond, with royalties and stuff like that. There's been the odd time... At Chris Curtis's funeral, I met him in the car park on the way into the church. I offered my hand and he refused to shake hands with me. There'll never be a reunion, I can assure you of that."

"I remembered quite a lot, actually," says the star, discussing the book writing process. "I've always had quite a good memory on certain things, not everything of course. I remembered most of my childhood, going on holidays to the family home in Ireland, my school days...

"It took a long time - it took probably about three years to write the thing. People are saying it's a good read, so I'm pretty proud of it."

These days the 1960s tend to be viewed through rose-tinted glasses, particularly as far as music is concerned. Was it really a Golden Age?

"I think it was, yeah. It was a fantastic age. It was totally different from what it is today, of course. The music was different; lots of lovely melodies with nice, rhyming lines in, unlike some of the songs today that you can't really understand. But every generation has its own music and in the '60s there were lots of groups that played a similar type of music. In saying that, I think we had a very distinctive sound. People even today say to me, 'Mike, when one of your records comes on the radio, I know exactly who it is because you've got that certain guitar and vocal harmony sound and I can tell right away it's The Searchers.' I think we more-or-less made our mark on '60s music."

That uniqueness, including an exciting 'jangly' 12-string guitar sound that preceded The Byrds, can clearly be heard on the three classics already mentioned, "Sweets for My Sweet," "Sugar and Spice" and "Needles and Pins," as well as on other memorable tunes such as "Don't Throw Your Love Away," "Love Potion No. 9" and "When You Walk in the Room."

Most of their songs were cover versions, often chosen by Chris Curtis and usually penned by American artists. Was it always the group's intention to take that approach, rather than write their own material like their one-time rivals The Beatles and The Rolling Stones?

"Well Chris had a knack for picking songs... He found 'Sweets for My Sweet,' he found 'Goodbye My Love,' he found 'When You Walk in the Room.' We just left it to him and he came up with the goods. We were never big on writing our own material. Chris was the first to get into it and most of his songs were B-sides. Then later in our career we all started doing a bit of writing. The only song we wrote that got in the charts was one Chris and I did, 'He's Got No Love,' which we wrote on an Australian tour."
Initially, the late Tony Jackson was the band's lead singer (it's his voice you can hear on "Sweets for My Sweet" and "Sugar and Spice"). Mike Pender, an equally talented vocalist, then took over and I wondered how that change came about.

"Not so much a change... Not so much a sit-down, 'this is the way it's gonna be' type thing - it just happened," he explains. "I mean we were doing 'Love Potion Number 9' and 'Needles and Pins' in the set before we went into the recording studio to do the very first record.
"When you hear 'Sweets for My Sweet,' I'm taking all the choruses with Tony on that - Tony's singing the verses on his own. So I'm with him there and it just so happened that I sang 'Needles and Pins' on my own. In the studio, our manager Tony Hatch said, 'Look, let's do it the way you do it on stage.' We put it down, couple of takes, and he said, 'That sounds great to me' and that's the way it was."

For more information on rock 'n' roll legend Mike Pender, or to check on upcoming tour dates, please visit his official website.