British Invasion - NYCB Theatre, Westbury, New York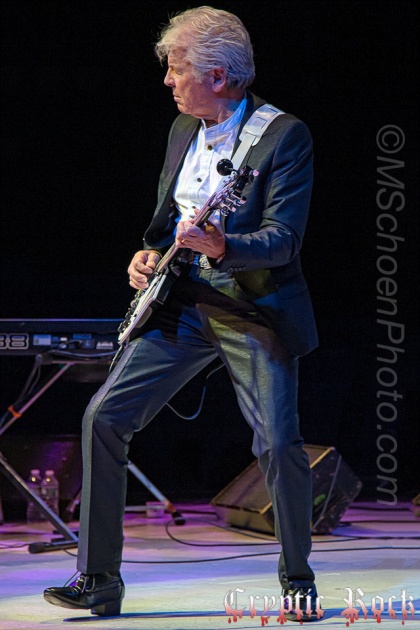 Rock-n-Roll music was forever altered during the mid-1960′s with a slew of talented bands hailing from the United Kingdom jumping into the mainstream. Taking heavy influence from early 1950′s American Rock-n-Roll and Blues musicians, the youth of the UK ignited what is historically known as the British Invasion.

Now over five decades later, the music of the era remains relative in popular culture with the older generation as well as the younger generation looking to pick up instruments and start a Rock-n-Roll band. In honor of this golden age of music, promoter Andrew Sandoval put together the British Invasion Tour for a ten-date stint across the coasts of the USA.

Starring a lineup of Terry Sylvester of The Hollies, Mike Pender of The Searchers, Chad & Jeremy, Billy J. Kramer, as well as Denny Laine of Moody Blues/Wings, the tour originally included Gerry Marsden of Gerry & The Pacemakers who had to cancel due to illness and everyone wishes him well. The tour kicked off September 9th, arrived at NYCB Theatre in Westbury, NY Sunday September 14th, and was sure to be to be an evening of memories, good times, and most of all, Rock-n-Roll.
First to the stage was Rock and Roll Hall of Fame vocalist/guitarist of The Hollies, Terry Sylvester. Beginning his career as part of The Escorts and The Swinging Blue Jeans, Sylvester joined The Hollies in 1969, after Graham Nash's departure, spending twelve years as a intricate part of the band as vocalist of hit songs. Coming out high energy and enthusiastic to be performing, Sylvester played a number of Hollies hits including "I Can't Let Go," "Bus Stop," and "Carrie Anne." Having everyone bopping their heads and singing along, he concluded the set with The Swinging Blue Jeans track "Hippy Hippy Shakes" to a standing ovation. Sylvester will continue touring into 2015, so keep a look out for dates.

Next was The Searchers vocalist/guitarist Mike Pender. As a key member of The Searchers for over two decades, Pender launched a solo career in 1985 and now performs with his own band titled Mike Pender's Searchers. Still an excellent guitarist, Pender rocked out a list of fun classic Rock tunes including The Orions " Don't Throw Your Love Away." Playing on a gorgeous black twelve-string Rickenbacker guitar, he also performed The Searchers tracks "Sugar and Spice" and "Needles and Pins," before including with The Clovers "Love Potion No. 9″. The warm tones brought forth by Pender and his band were nothing else than spectacular. Pender has a long list of solo shows lined up for 2015 as well.

Keeping the fun coming was the duo of Chad & Jeremy. Consisting of Chad Stuart and Jeremy Clyde, these two certainly made a splash in USA at the height of the British Invasion. Known for their gentle Folk Rock styling and harmonized vocals, Chad & Jeremy have not lost a step all these years later. Coming out cracking jokes, everyone could not help but smile during their exceptionally fun set that included "Willow Weep For Me" and "Yesterday's Gone." As they concluded with a fitting mid-September rendition of hit "A Summer's Song," everyone cheered in appreciated. Reunited now since 2003, Chad & Jeremy certainly have been welcomed back into the hearts of their fans who hope they continue to perform year after year.

With NYCB Theatre at Westbury in high spirits, Billy J. Kramer took to the stage. Once managed by Rock and Roll Hall of Fame's Brian Epstein of Beatles fame, Kramer began with strong ties to The Fab Four. With the dynamic songwriting pair of John Lennon and Paul McCartney writing a a list of songs for Kramer, he went on to distinguish himself and sustain a long career. Looking and sounding absolutely fantastic, Kramer's set was lively including "I'll Keep You Satisfied," "From a Window," as well as Beatles tunes "Do You Want to Know a Secret" and "I Call Your Name." Sincerely affectionate toward the audience, Kramer had complete control of the mood and concluded his performance with "Bad to Me," "Little Children," and a cover of The Walker Brothers "The Sun Ain't Gonna Shine Anymore." In 2013 Kramer released what is considered his first solo album, outside his recordings with The Dakotas, entitled I Won The Fight which is worth giving a listen for some great covers along with original new tunes.

Closing out the evening was vocalist/guitarist Denny Laine. Originally a member of The Moody Blues, Laine went on to a storied career with Paul McCartney's Wings as well as solo material. Apart of the 1985 debut of Moody Blues, The Magnificent Moodies , Laine has recorded nine records as part of Wings between 1971 and 1981, and also completed ten original solo studio records as well. Accompanied by a solid backing band that included keyboardist Jeff Ross, bassist Bill Cinque, guitarist Brian Pothier, and Billy Joel drummer Liberty DeVitto, Laine performed his "Say You Don't Mind" as well as his Moody Blues hit "Go Now." Featuring vintage Gretsch guitars and Vox amps, the textures were full as the day they were recorded and the set wound down with a great performance of Wings "Band on the Run."

Overall this was an evening of reflection on music that still captivates the heart and soul of people everywhere. Each artists brought their own personal charm to the stage and did a wonderful job with the time they were given to showcase their music. Anyone who attended this event were surely pleased with the performance and the overall joyous atmosphere. If there is a recollection for a British Invasion Tour in years to come, fans will surely return to join the mania once again.

Courtesy of Frank Malerba

http://crypticrock.com/british-invasion-arrives-at-nycb-theatre-at-westbury-ny-9-14-14/