50th Anniversary British Invasion Tour, Montclair, New Jersey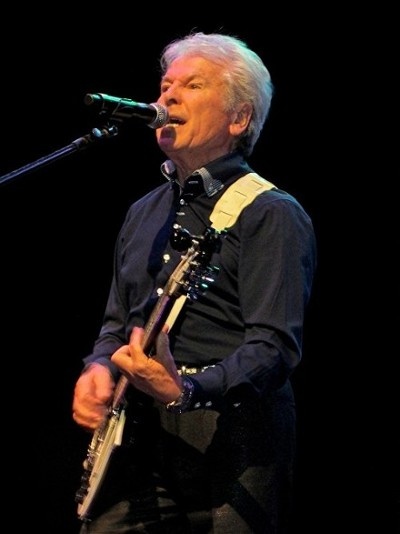 50TH ANNIVERSARY BRITISH INVASION TOUR
THE WELLMONT THEATER, MONTCLAIR, NJ
SEPT. 12, 2014

By RAY PAUL

It was a crowd mostly made up of baby boomers and those who were there 50 years ago who came to enjoy the music they grew up with and that meant so much to them at The Wellmont Theater in Montclair, NJ.

Opening the show was TERRY SYLVESTER (The Hollies, Swinging Blue Jeans), who was a last minute replacement for GERRY & THE PACEMAKERS as GERRY MARSDEN had to cancel due to a sudden illness. TERRY performed three Hollies Hits ("I Can't Let Go," "Bus Stop" and "Carrie Ann") and two from his days with the Swinging Blue Jeans ("You're No Good" and "Hippy Hippy Shake").

Next up on the show was the artist I was the most excited to see and hear, MIKE PENDER. In the 60's, THE BEATLES, THE SEARCHERS and THE KINKS were my three favorite groups. As a budding musician and songwriter back then, THE SEARCHERS were a huge influence on my songwriting and guitar-stylings which led to my career as a recording artist and musician. I kept following them throughout the years and when they released the two albums on Sire Records in 1979 ("The Searchers") and 1981 ("Love's Melodies"), I was so blown away by how great these albums were. I thought that they had recorded some of their best music ever! It wasn't until 1986 that I finally got to see THE SEARCHERS live for the first time on a British Invasion show at the Universal Amphitheatre in Los Angeles while MIKE PENDER was still with them.

Back to the current tour, MIKE PENDER opened the Wellmont Theater show with "SWEETS FOR MY SWEET," followed by "DON'T THROW YOUR LOVE AWAY" on which he got the audience to sing along with him and by ourselves on the chorus. Looking and sounding great and playing a very cool black Rickenbacker 12-string, the hits just kept-on-coming. Next up was "SUGAR & SPICE." MIKE followed that with the classic jangly 12-string sound of "WHEN YOU WALK IN THE ROOM" which really excited the crowd with MIKE playing the famous lead riff impeccably.

Next was the 1966 hit "TAKE ME FOR WHAT I'M WORTH" written by P.F. Sloan. Following that was the song that became a huge hit, a trademark song and one that really broke THE SEARCHERS wide in the USA. That song was "NEEDLES & PINS" and the crowd went nuts! MIKE then closed his portion of the show with "LOVE POTION #9," getting the crowd again to sing the chorus alone and with him. A great closer. I only wish I could've heard a few songs from either of the two Sire albums. Fans attending the L.A. show will be in for a treat as MIKE has invited my good friend JOHN WICKS (The Records) to join him onstage for a version of John's song "HEARTS IN HER EYES" which THE SEARCHERS recorded on their 1979 Sire LP "The Searchers."

And what a thrill, honor and pleasure it was to meet and talk with MIKE after the show. MIKE PENDER is one of my true musical heroes and a big influence on me as a musician. And he couldn't have been any nicer. MIKE also took time to meet with fans after the show, sign albums and take photos. It was so great to meet a musical hero who is such a sincere, nice and down-to-earth guy. It was a meeting I'll long remember.

After MIKE PENDER, CHAD & JEREMY took the stage telling stories between songs of their TV appearances on "BATMAN" and "THE DICK VAN DYKE SHOW" back in the Sixties. They performed five songs. "You Are She," "Distant Shores," "Yesterday's Gone," "No Other Baby" (The Sidekicks cover) and closed the set with "A Summer Song."

There was a brief intermission and then the second part of the show began with BILLY J. KRAMER. BILLY J. was a very dynamic and energetic performer. He played the most songs and did the longest set of the night. Starting out with "I Won The Fight," a track from his brand new album, BILLY J. then proceeded to do four of his hits that Lennon & McCartney wrote for him interspersed with some stories of working with The Beatles. Those songs were "I'll Keep You Satisfied," "From A Window," Do You Want To Know A Secret" and "I Call Your Name." Next was the Bacharach-David song he had a hit with in the USA in 1965, "Trains And Boats And Planes." Another brand new song, "To Liverpool With Love" followed, which mentioned Brian Epstein finally getting elected to the R&R Hall Of Fame. BILLY J. followed that with his first big USA hit, "Little Children," then told a story of how John Lennon said he had a new song for him. John played 2 songs for him at Abbey Road Studios. BILLY J. said, "Can I have that one? which was "I Want To Hold Your Hand. John said "No. We're doing that one." But he gave him a great one, "BAD TO ME" which he then sang. KRAMER closed his set with a cover of The Walker Brothers hit "The Sun Ain't Gonna Shine Anymore," which coincidentally I had a regional hit with in the Boston and New England region in 1980.

Closing out the show was DENNY LAINE. The ex-WING and ex-MOODY BLUES member did a very short set, starting with a cover of "I'LL GO CRAZY," the James Brown tune he also did with THE MOODY BLUES; then "SAY YOU DON'T MIND" which was a chart-topper in the U.K. for Colin Blunstone. Denny wrote and also recorded this song as a solo record. Not as well-known in the USA as it is in the U.K. DENNY then closed out his set with the MOODY BLUES big hit, "GO NOW."

But it wasn't over yet. DENNY returned to the stage and they went into "Band On The Run," the Paul McCartney & Wings classic. Halfway through the song, the other artists on the show started appearing on the stage with DENNY, singing along withj the appropriate parts. CHAD & JEREMY, MIKE PENDER, TERRY SYLVESTER, DENNY LAINE and BILLY J. KRAMER then joined together to take their final bows. A well put together show with slides of their record sleeves and early photos continuously appearing with every artist.

The artists were backed by a fine band all night that kept the pace of the show moving well. The band was made up of members of PETER ASHER'S touring group, with LIBERTY DeVITTO on drums, who was BILLY JOEL'S drummer for many years and now tours with BILLY J. KRAMER.

All in all, "A Splendid Time Was Guaranteed & Had By All." ****

Review by Ray Paul

Photos Copyright 2014 Ray Paul/Ray Paul Media Corp.
All Rights Reserved.